EQUIPMENT FOR THE TOUGH WORLD OF MARTIAL ARTS, STYLISH DESIGN COMBINED WITH FUNCTIONALITY AND QUALITY ….HERE ARE SOME TECHNICAL FACTS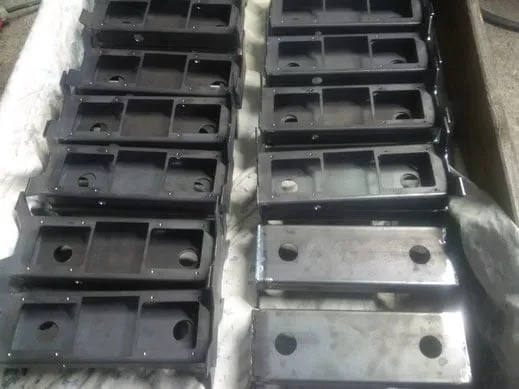 lasercut casings for Boxing glove Dryer
steel is still one of the toughest materials available, it can take a good beating, fall onto the floor, be kicked around, and if it`s warped just bend it straight! It won`t get brittle like plastic and if anything breaks we can fix it. Our products are robust and made to last a lifetime.
For our stainless versions we use grade 1.4301 all around. The powder coated versions are made of mild steel S235. All joints are TIG welded.
They are definitely not lightweight. The plain rack is 1.2kg (2.65lbs) and the rack with drying function is a whopping 2.5kg (5.5lbs). But this is how it should be; they will stand safely even if you push them accidentally. If they are too heavy for you, you should train harder!
The rack is 33cm (13″) high, 30cm (11.8″) wide, 13cm (5.1″) deep. The rack with drying function is 37cm (14.6″) high, 30cm (11.8″) wide and 15cm (5.9″) deep. They will fit boxing gloves from 8 ounces upwards.
We recommend cleaning the outside with a damp cloth with detergent. But you can use the toughest disinfectant you can find- remember it`s stainless steel! The powder coating is also durable and insensitive; it`s tough enough to be used for car rims as well. With our parts there is no melting or getting soft like plastic does.
But never dip the dryer units in water or try pouring water in the ventilation holes. This will destroy the electical components and the fan!
Air is vacuumed through the ventilation plate at the bottom and blown out through the holes at the end of the tubes. The air is redirected at the top of the glove and damp air will flow downwards around the tube out of the boxing glove. We don`t drill holes in the circumference of the tube because this would disturb the flow.
Heating will ruin the leather in expensive gloves. Wet leather will shrink and go brittle when exposed to heat. The upholstery foam can be damaged and bonds can disolve. The best and gentlest method for drying is a steady air exchange.